Ensuring you have a safe & fun stay
COVID-19 Safety at Elgin Hotel
Elgin Hotel is currently closed due to National Lockdown. We will re-open on Monday 17th May 2021; following current Government guidelines
This page will be updated when we have any further information.
Elgin Hotel has always put the safety of its Guests and Staff first. With regards to Covid-19; Owners, management and staff, working together as a team, will strive, at all times, to take all of the appropriate measures to reduce the risks from Covid-19 for our staff, guests and visitors to our Hotel.
To do this, we have carried our a number of Risk Assessment that both identifies the possible risks and then develops the controls needed to reduce the risk. The result of this Risk Assessment is that we have invested in various types of equipment and implemented a number of procedures into all of our sites to reduce the risk of infection and demonstrate to our Guests that we offer an environment that is safe.
These include:
Investment in sanitizing stations and equipment, screens and PPE (personal protective equipment).
Maintaining social distancing by reducing contact between the staff, and reducing contact between staff and guests as much as is practical.
Closing the bars and restaurant at 10pm. Evening meals will be served from 5.30pm – 6.30 or 7pm subject to numbers, and entertainment will start at 7.30pm with cabaret, bingo (8.15pm) then Cabaret. (9pm- 9.45pm)
Ensuring that cleaning and sanitising is carried out on a regular basis, to the highest of standards in all areas.
Ensuring, where appropriate, adequate and effective PPE is made available for staff if they should wish to use it.
By ensuring adequate facilities and materials for effective hand washing and hand sanitising are made available for staff and guest use.
ensuring there is a maximum of 6 guests at a table inside and outside
By ensuring the latest up to date information/guidance on Covid-19 from the UK Government is made readily available to all staff and guests in the form of information posters around the Hotel, regular correspondence with staff and guests, regular staff meetings and training sessions.
We have followed and monitored Government Guidelines throughout the COVID-19 Pandemic, and have also been advised by our qualified Health & Safety Expert. All of these safety measures are in place allowing you to relax and have a fantastic holiday; and we look forward to welcoming you back to the Elgin soon!
*Please be advised we are re-opening on Monday 17th May 2021 – the above may alter due to changing guidelines from the Government.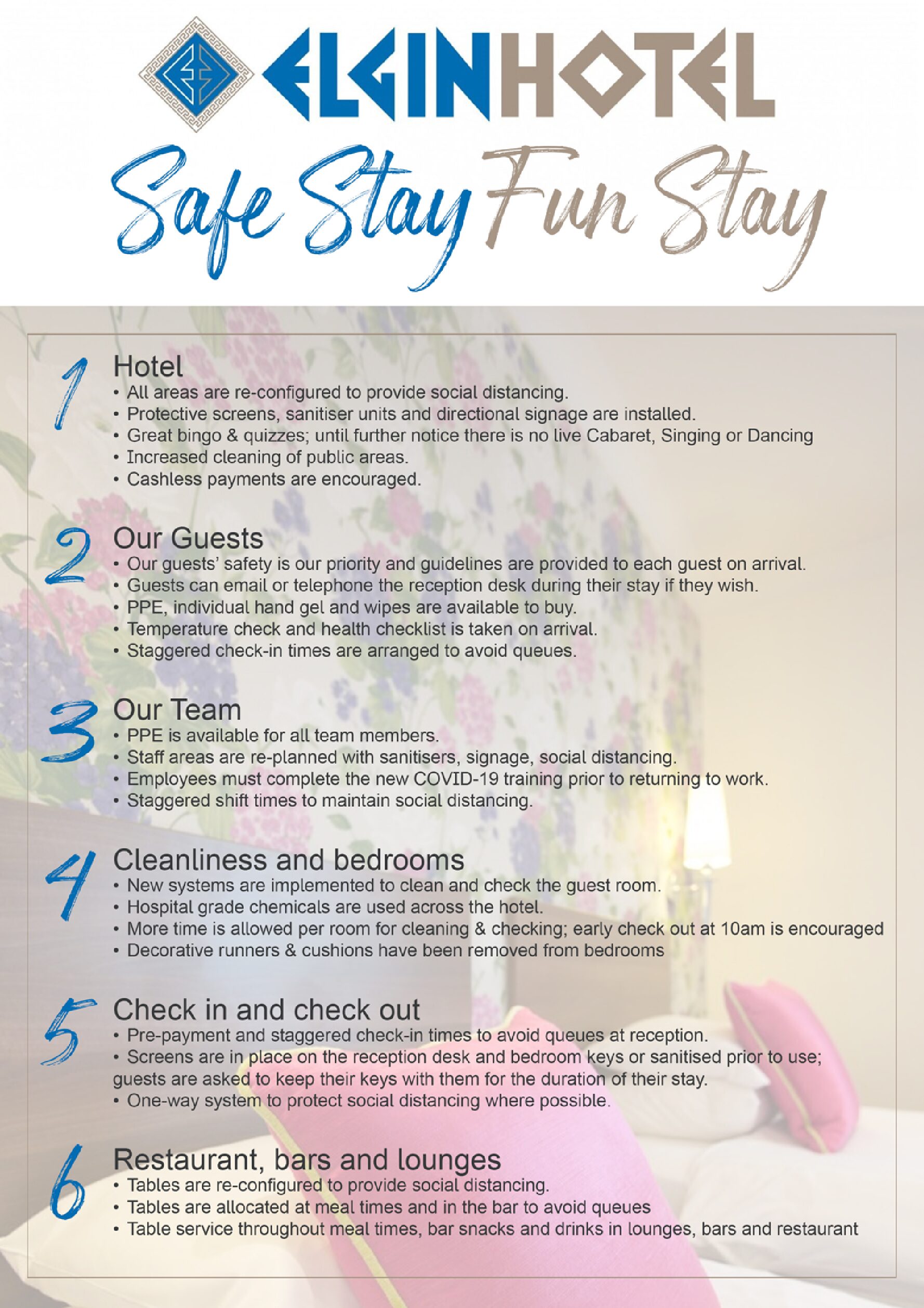 This page was last updated on Wednesday, 24th February 2021